Access Control / Surveillance / Cash Register Interfaces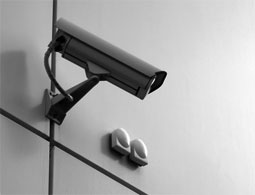 Security cameras are quite common in the workplace
and ensure additional security. Many camera models with up-to-date technology are available and any office or store can benefit from the use of video surveillance.
No matter the type of workplace,
video surveillance can deter theft, increase employee productivity, monitor unpopulated areas and potentially reduce workplace insurance premiums. Additionally, with 24/7 surveillance, the chances of vandalism and after-hours criminal activity severely decreases.
When most people think of access control, they imagine someone swiping a badge
to a card reader to unlock a door or release a barrier so that they can get into or out of a building, and this is certainly the most common use. However, Access Control Systems can be used to improve payroll efficiency, enhance facilities security, save on printing and photocopying costs, reduce energy consumption, and even solve parking issues!
Cash Register Interface products allow transaction data from cash registers
to be displayed on top of the normal security video image. Cash register interface applications are an excellent method for controlling theft and fraud in retail stores and are gaining widespread use in the security industry.